PRO Services in Dubai and the UAE Made Easy
We provide a wide range of PRO services in Dubai and across the UAE at the most competitive rates.
Visa Services
Labour and Immigration Services
Company Licenses
Attestation of Documents
Typing and Translation
Government Approvals
3 Simple Steps
Step 1
Get a quick quote
Step 2
Approve the quote and make payment
Step 3
Receive the service
Our Services
Visa Services
We all know that a UAE residency visa is required to live and work in any Emirate of the United Arab Emirates. A UAE residency visa is also mandatory to apply for a driving license, register a car, and buy a property in the United Arab Emirates
Visa processing in UAE can be a daunting task. That is why InZone offers end to end assistance to you for processing your UAE residency visa. Our PROs liaison and co-ordinate with different government departments for handling, processing and approval of your UAE visa residency application. InZone's PRO solutions are custom made for the different visa requirements of all our clients.
Typically, UAE residency visa are of the following types:
This is how we benefit you with our visa services:
– Dedicated professionals
We will assign a dedicated professional, who will be in charge of the client's account. Our dedicated professional will keep the client regularly updated about the status of their visa application by always keeping them in loop.
– Visa processing application
InZone's PRO carry out all types of visa applications. Our client's do not have to worry at any stage of the application from collation of documents to issuance of the visa. We provide holistic solutions for all your visa needs.
– Reminders for renewals
We issue regular renewal reminders to help our client track and carry out timely visa renewals.
Labour and Immigration Services
It is important for each employer and employee in the United Arab Emirates to comply with the requirements of the labour department. Even after issuance of a visa, there are a host of issues and guidelines related to labour and immigration departments that are required to be addressed and complied with. It can become difficult to deal with labour departments of different Emirates, as each labour department has its self-designed procedure. It can also be difficult for foreign nationals to deal with the labour departments as they are predominantly staffed with Arabic speakers.
To solve this, InZone offers labour and immigration services to cater to your needs relating to labour and immigration compliances. Our PRO experts are well versed with the procedures of the labour departments of all Emirates, which helps them to provide you with easy and to the point solutions. Our network at different labour department enables us to carry out each task in a timely and streamlined manner.
Our PRO's provide a host of labour and immigration services, including issuance of visa, execution of employment contract, employment visa quotas, issuance of work permit, cancellation of work permit, issuance of labour card, issuance of labour contract etc. Apart from this some of the other labour and immigration services offered by us are as follows:
Amend contract / work permit.
Amend work contract for a domestic worker.
Cancel the work permit of domestic worker.
Cancel a work contract.
Issuance of e-signature.
Issue government relations officer permit.
Issue new contract for a domestic worker.
Modifications of establishment card.
Offering vacancies in the recruitment system.
Register in the Emiratisation system of employers.
Renew work contract.
Replace work permit.
Processing of emirates ID.
Renewal of emirates ID.
Typing of medical application.
Below are the reasons for availing our labour and immigration services:
We will assign a dedicated PRO that will take care of all your requirements. The PRO will regularly update you so that you are always in the loop.
Our PROs will provide you with timely reminders for renewals.
Since our PROs are aware about all processes of each labour department, it will save you from spending any extra money or wasting your precious time.
Labour and immigration services offered by InZone are designed to provide comfort and relaxation to our clients. All you labour and immigration related worries are taken over by us once you avail this service.  To avail our assistance, call us or leave an inquiry on our website. We will be happy to help you.
Company License
A company license is the most important document to start a business in the United Arab Emirates. It is a permit to carry out business. The company license mentions all major activities that a company can carry out in UAE. Obtaining, renewing or cancelling a trade license can be a complicated process that requires expert knowledge.
The issuance, renewal and cancellation of company licenses are carried out by the licensing authority where the company is situated. Broadly, there are three company jurisdictions in the United Arab Emirates being:
Mainland
These companies in UAE are governed by the government licensing department of each Emirate. For instance, the process of issuance of licenses, renewals of licenses, and cancellation of licenses for mainland companies in Dubai are carried out by the Dubai Economy.
Free zones
There are over forty-eight (48) free zones locates in different emirates of the United Arab Emirates. Each free zone has its own process, requirements, and eligibility criteria for issuing renewal, and cancellation of licenses (including liquidation). One must accurately follow all these processes to achieve the desired result.
Offshore
UAE also has multiple offshore jurisdictions. Simply put, offshore companies are businesses that are registered in UAE but run outside of the country. Similar to free zones, different licensing authorities govern offshore companies in UAE. Each licensing authority has its own way of issuing, renewing, and cancelling a business license.
Sometimes external approvals are also required to setup a company. The licensing of business necessitates approval from authorities and certain ministries such as financial institutions and banks, insurance companies, Central Bank, Ministry of Economy and Commerce. Manufacturing businesses require the special consent from the Ministry of Industry and Finance, whereas medical and pharmaceutical products need approval from the Ministry of Health. For oil or gas production, there are several other authorities from whom you need approvals. Some major activities such as insurance and jewellery setups require a financial guarantee which is issued by a bank already operating in UAE.
The PRO's at InZone know at the back of their hand the eligibility criteria, required documents and paperwork required by any licensing authority or any external department in UAE. Our PRO's assistive network at each licensing authority and external department ensures that your work related to company license is done sooner than promised.
Leave an inquiry on our website or call us for availing our company license service. We are always quick to respond.
Our Amazing Client Reviews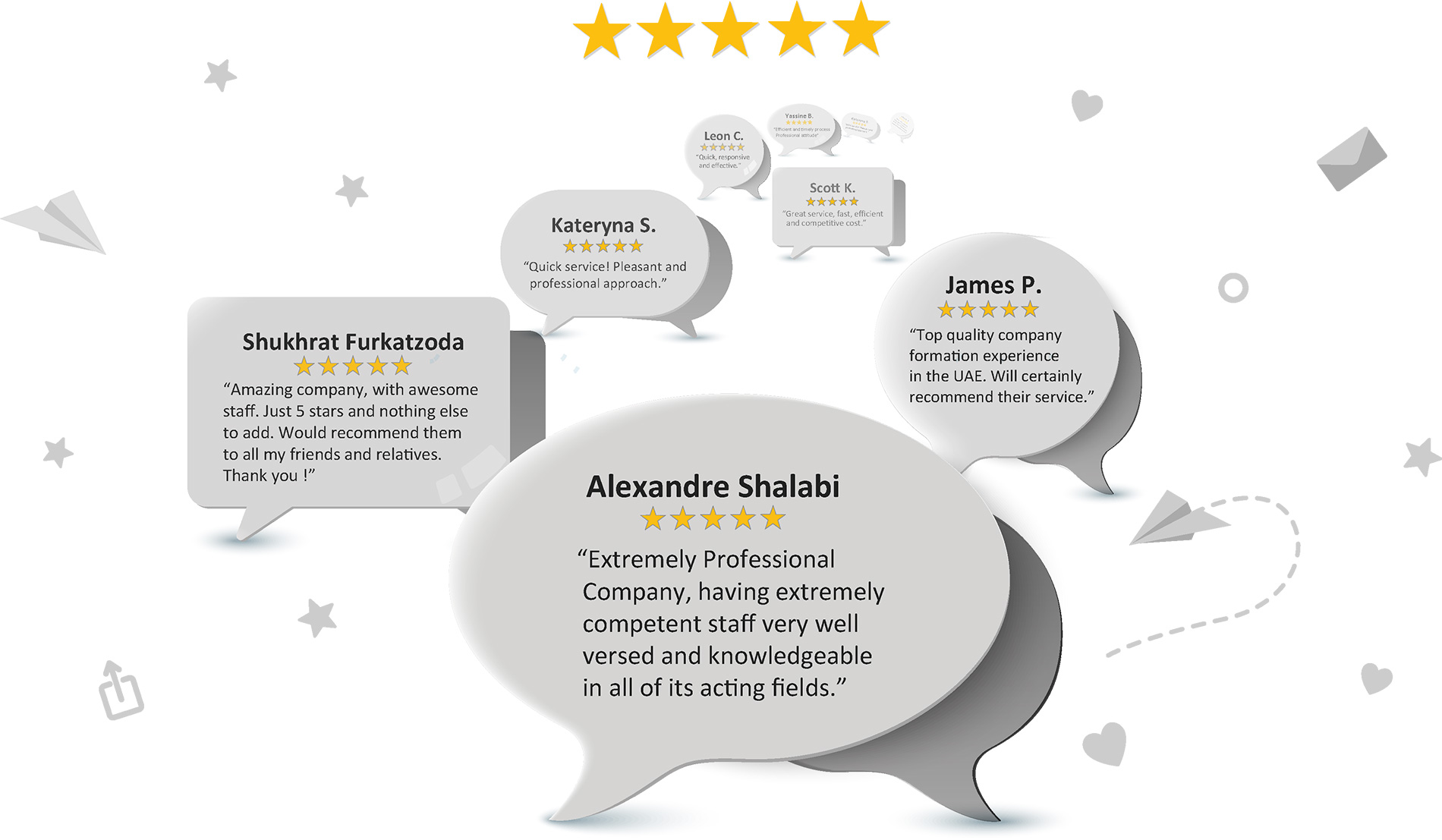 Attestation of Documents
Our PRO experts provide seamless attestation services.
What is attestation?
The process for validating the authenticity of a particular document is called attestation, legalisation or consularisation. The attestation process in the United Arab Emirates varies depending on the document and the country that has issued the document. Normally, attestation process includes different stages, which can be complex to carry out. The process of attestation is also sometimes referred to as notarisation, although in the UAE, local document notarisation is exclusively undertaken by a local UAE notary public.
Why do you need attestation in UAE?
As the UAE is not a member of the Hague Apostille Convention, attested documents are required for most processes in the UAE for companies and for individuals, therefore it is essential to obtain official recognition of these documents for use within the UAE.
What kind of documents require attestation?
Documents that require attestation are broadly of the following kinds:
Educational certificates (degree certificates, diploma certificates)
Non-educational certificate (personal certificates, birth certificate, marriage certificate)
Commercial certificate/documentation (board resolutions, power of attorney / memorandum or articles of association).
The procedures for UAE attestation for different documents vary. There are various subcategories for document attestation in UAE. Documents such as educational certificate attestation is done on degree certificates, diploma certificates, SSLC certificates, HSC certificates etc for educational, migration, employment purposes in foreign countries. Non-educational documents attestation consists of verifying personal documents as in birth certificate, death certificate; marriage certificate experience certificate etc. Commercial document attestation includes the verification of all the documents depending on the business, trading etc.
Document type
Purpose for attestation
Department
Educational certificates:

To acquire a work visa/work Card for the majority of the assignment.
To seek after advanced education in a UAE.
To compose MOH (Ministry of Health) and DOH (Dept. of Health) assessments by specialists, medical caretakers, drug specialists, lab, professionals, and so forth.
To get the proportional authentications.

HRD (human resource department)/ SDM (sub-divisional magistrate).
MEA (ministry of external affairs).
UAE embassy attestation.
MOFA (ministry of foreign affairs).

Non-educational certificates:

To get resident visa for spouse, children, in-laws.
For admission purposes in school (by means of Transfer Certificate).

Notary attestation.
MEA (ministry of external affairs).
UAE embassy attestation.
MOFA (ministry of foreign affairs).

Commercial documents

To get the right to sell properties in Home Country.
For the removal of LLC partnership.
To open Bank account.
Company Registration.

Attestation from chamber of commerce.
MEA (ministry of external affairs).
UAE embassy attestation.
MOFA (ministry of foreign affairs).
The above tabulation is only an indicative description of the attestation process. The exact process would depend on the nature of the documents, the country of issuance, and purpose for which the attested document is required. Having said that, our PRO experts are here to explain to you attestation procedure, and carry out on your behalf the attestation of documents. With our help, you can have your documents attested from the comfort of your home.
Leave an inquiry on our website, and our PRO experts will assist you with your attestation requirements.
Typing and Translation Services
Many departments and offices in UAE do not accept English copies of documents. These documents are required to be typed in a specific format and translated in Arabic, so that the contents of the documents are validly recognized. In many cases the Arabic translated copy is also not accepted either because the translation is not precise, or the typing format is not accurate. This can lead to a lot of hassle. However, to solve your problem InZone offers at low prices precise and accurate typing and translation services for all types of documents.
If you require typing and translation services in any Emirate in the United Arab Emirates, then our PROs are at your service to meet your requirements. Our PROs have vast experience in typing and translating between English and Arabic for our client bases comprising of both individuals and corporates. Our experts are capable of typing and translating all documents precisely, so that they are validly accepted in the UAE.
Some of the documents for which we provide typing and translating services are below:
General Correspondence and letters.
Manuscripts.
Employee/Safety Manuals
Mailing/Address Labels
Handwritten Documents
Personal letters (recommendation letters, petition letters, exemption letters from fines, etc.)
Term Papers
Thesis Paper
Dissertations
Website translations
Passports
Birth certificates
Marriage and divorce certificates
Academic transcripts and diplomas
Employment reference
Driver's licenses
Medical records
This is only a reflective list of the types of the documents that can be typed and translated by us. For any other document, give us a call or leave an inquiry on our website to get the best possible fee quote.
Below, are the reasons to choose InZone for your typing and translating requirements:
Our translators are expert translators and excel in Arabic to English translations.
Our translators are certified and authorized. We have an excellent team of experienced translators who are experts in various fields.
Our translators can do a quick, accurate and effective translation of all documents as your preference.
We give quick and economic solutions for all kinds of certified translation services.
Due to InZone' wide reach and expert team of linguistics, InZone is able to undertake and execute niche-specialized legal translations.
Our typing and translation solutions are customised and crafted for our client's needs.
We provide proof reading and editing services for typed and translated documents.
InZone ensures absolute secrecy regarding the contents of your documents.
InZone is a one stop solution for all your tying and translation requirements.
InZone offers the best prices for typing and translating services. There are no hidden or extra charges payable.
We provide fast and timely typing and translation services. Our experts are equipped to finish the typing and translation as fast as possible.
We provide quality services. Our typed and translated documents are accepted all over UAE.
There are innumerable benefits for choosing a trusted service provider. Our end-to-end service enables you to get an accurate typed and translated copy of any document that will be recognized everywhere in the United Arab Emirates.
To get any document typed or translated give us a call or leave an inquiry on our website, today.
Government Approval
People living in UAE sometimes require external approvals from different government offices and government departments to carry out certain activities. Even businesses set up in the UAE may require these external approvals from time to time to conduct their day-to-day business.  These approvals are mandatory, and people / businesses cannot carry out their intended activity without obtaining the concerned approvals.
We know that it can be a tedious task to get these government approvals. These approvals not only take time, but there is also a lot of running around to do between different departments. In order to get these approvals, your paperwork has to be perfect and one small mistake can make the government department decline your approval application. This is a lot of hassle, but not worth your time.
To solve this problem, the PRO's at InZone offer a service wherein they will get your government approval for you. Our PRO's will provide full assistance from preparing the application to personally visiting the government departments on your behalf. The vast network of our PRO's at different government department makes the application process simpler and faster. You can get your desired government approval while relaxing at home.
We help our client's obtain approvals from the following local authorities:
Road Transport Authority Approval (RTA)
Dubai Economy Department Approval (DED)
Real Estate Regulatory Authority Approval (RERA)
Dubai Electricity and Water Authority Approval (DEWA)
Dubai Municipality Approval
Ministry of Human Resources & Emiratisation Approval (MOHRE)
Telecommunication Regulatory Authority Approval (TRA)
Dubai Civil Aviation Authority Approval (DCAA)
Dubai Civil Defence Approval (DCD)
Dubai Police Service Approval (DPS)
Dubai Financial Services Authority Approval (DFSA)
Dubai Chamber of Commerce and Industry Approval (DCCI)
Dubai Health Authority Approval (DHA)
Knowledge and Human Development Approval
Ministry of Education Approvals (MoE)
Dubai Export Development Corporation Approval (DEDC)
Government of Dubai Media Approval
Dubai Sports Council Approvals (DSC)
DIWAN Approval
Our PROs are aware about the process for obtaining all government approval from the government department of any Emirate in UAE.  Due to this we provide a speedy and cutting-edge service for obtaining government approvals.
To get your concerned government approval in a timely manner, call us today or leave an inquiry on our website.
Government Departments
We can help you with the processes in the following government departments.